An Award-Winning Southern California Winery
Experience the Valley's Premier Vineyards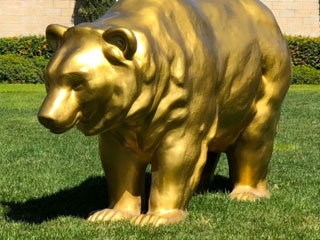 Many people think of California's Wine Region being located in the northern part of the state; when in fact South Coast Winery is the first winery among 750 of the states' top wineries to claim the title of California Winery of the Year for 5 times, as judged in the California State Fair Wine Competition -- the oldest and most prestigious wine competition in the United States, dating back to 1854.
South Coast Winery Resort & Spa sets the Gold Standard of Excellence in not only our award-winning wines but also in our hospitality. We take great pride and care in delivering exceptional guest experiences with a warm, friendly Southern California style.
Since we first started bottling wine back in 2003, South Coast Winery has earned more than 3,000 awards in regional and International competitions since its first fourteen years of production. Learn more about our award-winning winery in Temecula by exploring some of our recognitions below and read some of our testimonials.
South Coast Winery Awards
2022 South Coast Winery Grenache Noir Rosé: Double Gold, Double Gold, Gold, Gold, Silver
2022 South Coast Winery SIN Sparkling: Gold, Gold
2022 South Coast Winery Tempranillo Rosé: Double Gold, Gold, Silver
2021 South Coast Winery Chardonnay Sans Chene TV: Best of Class - Gold, Double Gold, Gold, Silver, Silver
2021 South Coast Winery Dry Gewurztraminer: Best Gewurztraminer, Best of Class - Double Gold, Gold, Gold, Platinum, Silver, Double Gold
2021 South Coast Winery Sauvignon Blanc: Double Gold, Silver, Bronze
2021 South Coast Winery Pinot Grigio: Silver, Silver, Silver, Silver
2021 South Coast Winery Riesling: Gold, Silver, Silver, Bronze, Bronze
2021 South Coast Winery Gewurztraminer: Gold, Silver
2020 South Coast Winery Sangiovese: Gold, Silver
2019 South Coast Winery Muscat: Silver
2019 South Coast Winery Boulder Red: Gold, Gold, Silver, Silver, Silver, Silver
2019 Wild Horse Peak Petite Sirah: Best of Class Red - Double Gold, Gold, Silver, Silver, Silver
2019 Wild Horse Peak Sangiovese: Double Gold, Gold, Gold
2019 Wild Horse Peak II Temporale: Gold, Silver, Silver
2019 South Coast Winery Cabernet Franc: Gold, Gold, Bronze
2019 South Coast Winery Carmenere: Silver, Silver
2019 South Coast Winery Cabernet Sauvignon: Gold, Silver, Silver, Bronze
2019 South Coast Winery Merlot: Gold, Bronze
2019 Wild Horse Peak Syrah: Gold, Silver, Bronze
2019 South Coast Winery Tempranillo: Gold, Silver
2019 Wild Horse Peak Tempranillo: Gold, Bronze
2018 South Coast Winery Meritage: Gold, Gold, Silver, Silver
2018 South Coast Winery 20th Anniversary Red Wine: Silver, Silver, Silver
2017 South Coast Winery Cabernet Sauvignon: Silver
NV South Coast Winery Pinot Grigio Sparkling: Gold, Silver
NV South Coast Winery Brut Sparkling: Silver, Silver
NV South Coast Winery Black Jack Port: Gold, Silver, Silver
NV South Coast Winery Big Red Table: Gold, Silver
NV South Coast Winery Black Jack Port: Best of Class-Gold,
NV South Coast Winery Sparkling Gewürztraminer: Best of Class-Gold, Silver, Silver, Double Gold
2017 South Coast Winery Sangiovese: Gold
2018 South Coast Winery Sangiovese: Bronze, Silver, Silver
2020 South Coast Winery Riesling: Gold, Gold
2018 South Coast Winery Rhone Style Blend-20th Anniversary: Gold, Silver, Silver, Silver
NV South Coast Winery Sparkling Pinot Grigio: Gold, Gold, Silver
2020 South Coast Winery Pinot Grigio: Gold, Bronze
2021 South Coast Winery Pinot Grigio: Bronze, Bronze
NV South Coast Winery Sparkling Spumante Diamante: Bronze
2020 South Coast Winery Verdelho: Silver, Gold, Silver, Silver
NV South Coast Winery Sparkling Vineyard Rosé: Silver, Gold
2017 South Coast Winery Meritage: Gold, Silver, Gold, Best of Class-Gold
2018 South Coast Winery Meritage: Best of Class-Double Gold
2017 South Coast Winery Touriga Nacional Tempranillo "TNT": Gold
NV South Coast Winery Red Blend - Big Red Table: Silver, Silver, Best of Class-Silver
2019 South Coast Winery Viognier: Silver, Gold
2020 South Coast Winery Viognier: Silver
2015 South Coast Winery Tempranillo-Monastrell: Silver
2020 South Coast Winery Pinot Blanc "Sur Lie": Bronze, Silver, Best of Region-Double Gold, Silver, Silver, Silver
2019 South Coast Winery Gewürztraminer: Bronze
2021 South Coast Winery Dry Gewürztraminer: Gold
2019 South Coast Winery Santa Lucia Highlands Pinot Noir: Bronze
2020 South Coast Winery Grenache Blanc: Gold, Silver, Silver, Double Gold
2017 South Coast Winery Maverick: Gold
2019 South Coast Winery Sauvignon Blanc: Gold
2020 South Coast Winery Late Harvest Gewürztraminer: Gold
2020 South Coast Winery Chardonnay Sans Chêne: Bronze, Best of Class-Silver, Gold, Silver
2021 South Coast Winery Chardonnay Sauvignon Blanc: Silver, Silver, Gold
NV South Coast Winery Natural: Bronze, Silver, Gold
NV South Coast Winery Ruby Cuvée: Silver, Gold
NV South Coast Winery Brut Sparkling: Silver, Gold, Gold
2020 South Coast Winery Carménère: Silver
2017 South Coast Winery Meritage: Double Gold; Gold
NV South Coast Winery Sparkling Vineyard Rosé: Gold
NV South Coast Winery Sparkling Pinot Grigio: Silver
2020 South Coast Winery Verdelho: Gold
2019 South Coast Winery Viognier: Silver
2020 South Coast Winery Grenache Noir Rosé: Gold, Silver, Double Gold; Silver
NV South Coast Winery Big Red Table: Silver
2020 Pinot Blanc: Bronze
2019 South Coast Winery Tempranillo Rosé: Gold
2018 South Coast Winery Grenache Noir Rosé: Gold
2019 South Coast Winery Tempranillo Rosé: Double Gold
2019 South Coast Winery Pinot Grigio: Best Pinot Grigio, Double Gold
2015 South Coast Winery Cabernet Sauvignon: Gold
NV Berenda Road Zinfandel: Gold
2017 South Coast Winery Santa Lucia Highlands Pinot Noir: Gold
2018 South Coast Winery Chardonnay Sans Chêne: Gold
2018 South Coast Winery Sauvignon Blanc: Silver
2015 South Coast Winery Merlot: Silver
2015 Wild Horse Peak Cabernet Sauvignon, 4 Block Blend: Gold, Silver, Silver, Gold, Bronze, Gold
2016 Wild Horse Peak Cabernet Franc: Silver, Silver
2015 Wild Horse Peak Petite Sirah, Reservoir Block: Gold
2016 Wild Horse Peak Petite Sirah: Silver, Gold
2016 Wild Horse Peak Touriga Nacional: Bronze, Gold, Double Gold
2016 Wild Horse Peak Zinfandel: Gold - Best of Class of Appellation, Silver
2014 Wild Horse Peak Meritage: Bronze
2016 Wild Horse Peak Tempranillo: Bronze
2016 South Coast Winery Grenache: Bronze
2018 South Coast Winery Chardonnay Sans Chêne (TV): Gold, Gold, Bronze, Bronze, Silver, Gold, Bronze
2017 South Coast Winery Grenache Noir Rosé: Gold, Gold
2018 South Coast Winery Grenache Noir Rosé: Double Gold, Silver, Gold - Best of Class of Appellation, Gold, Silver
2016 Wild Horse Peak Merlot: Bronze, Bronze, Silver, Gold, Gold, Silver
2018 South Coast Winery Muscat Canelli: Silver, Gold, Gold - Best of Class, Silver - Best of Class of Appellation, Silver, Gold
2017 South Coast Winery Reference Chardonnay: Silver, Bronze
2017 South Coast Winery Pinot Noir: Double Gold, Gold - Best of Class of Appellation
2017 South Coast Winery Pinot Grigio: Bronze
2018 South Coast Winery Pinot Grigio: Bronze, Silver - Best of Class of Appellation, Silver, Bronze
2016 South Coast Winery Santa Lucia Highlands Pinot Noir: Gold
2017 South Coast Winery Santa Lucia Highlands Pinot Noir: Silver, Silver, Silver
2016 South Coast Winery Roussanne: Silver
2018 South Coast Winery Riesling: Gold, Silver, Gold, Silver
2016 South Coast Winery Petit Verdot: Silver
2016 Wild Horse Peak Sangiovese: Silver, Silver - Best of Class of Appellation, Gold, Silver, Silver
2017 South Coast Winery Sauvignon Blanc: Gold, Silver, Silver
2018 South Coast Winery Sauvignon Blanc: Silver, Bronze, Bronze, Silver, Bronze
NV South Coast Winery Sparkling Pinot Grigio: Gold, Silver, Gold, Silver
2016 Wild Horse Peak Syrah: Gold, Silver, Silver
2018 South Coast Winery Tempranillo Rosé: Gold - Best of Show, Bronze, Silver, Gold, Double Gold, Gold, Silver, Gold
NV South Coast Winery Vineyard Rosé Sparkling: Silver, Gold, Gold, Silver
NV South Coast Winery Sparkling Syrah (Ruby Cuvée): Silver, Gold
NV South Coast Winery Sparkling Brut: Bronze
2017 South Coast Winery Viognier: Silver, Gold, Bronze, Silver, Gold, Bronze
2018 South Coast Winery Viognier: Silver
2018 South Coast Winery Gewürztraminer: Bronze, Bronze, Silver
2016 South Coast Winery Dry Gewürztraminer: Silver
2017 South Coast Winery Dry Gewürztraminer: Silver, Silver
NV South Coast Winery Sparkling Gewürztraminer: Silver, Silver, Bronze
NV South Coast Winery Romanza (Red): Silver
NV South Coast Winery Pink Romanza (2018 Bottling): Silver - Best of Class of Appellation
NV South Coast Winery Group Therapy Red Blend: Silver
2015 South Coast Winery Tempranillo Monastrell: Silver - Best of Class of Appellation
2015 South Coast Winery Merlot: Silver
2014 Wild Horse Peak Petite Sirah: Silver, Silver, Bronze
2014 Wild Horse Peak Cabernet Franc: Silver
2014 Wild Horse Peak Cabernet Sauvignon: Double Gold
2014 Wild Horse Peak Merlot: Gold
2014 Wild Horse Peak Touriga Nacional: Silver
2014 Group Therapy: Silver
2017 South Coast Winery Chardonnay Sans Chene: Bronze, Silver, Silver
2016 South Coast Winery, Santa Lucia Highlands Pinot Noir: Bronze, Bronze, Silver
2017 South Coast Winery Tempranillo Rosé: Double Gold, Silver
2017 South Coast Winery Grenache Noir Rosé: Gold, Bronze, Bronze, Silver
NV South Coast Winery Sparkling Pinot Grigio: Gold, Silver, Silver
2017 South Coast Winery Dry Gewürztraminer: Silver, Silver, Silver, Silver
2017 South Coast Winery Merlot Rosé: Gold
2017 South Coast Winery Muscat Canelli Rosé: Silver
2017 South Coast Winery Pinot Grigio: Silver, Bronze, Bronze, Bronze
2017 South Coast Winery Sauvignon Blanc: Gold
NV South Coast Winery Sparkling Gewürztraminer: Silver
NV South Coast Winery Brut Sparkling: Bronze, Bronze
Carter Estate Winery Penrose: Bronze, Bronze
Carter Estate Winery Blanc de Blanc: Double Gold Best of Class
Carter Estate Winery Blanc de Noir: Bronze
Carter Estate Winery Brut: Bronze
2012 South Coast Winery Sangiovese (California): Silver
2012 South Coast Winery TNT: Bronze
2013 Wild Horse Peak Mountain Vineyard Cabernet Sauvignon: Gold, Silver, Silver, Bronze
2013 Wild Horse Peak Mountain Vineyard Meritage: Bronze, Bronze
2013 Wild Horse Peak Mountain Vineyard Merlot: Silver
2013 South Coast Winery Sangiovese (California): Platinum, Double Gold
2013 Carter Estate Winery Sangiovese: Gold
2013 Wild Horse Peak Mountain Vineyard Syrah: Silver
2014 South Coast Winery Late Harvest Gewürztraminer: Silver
2014 South Coast Winery Merlot (California): Silver
2014 Wild Horse Peak Mountain Vineyard Zinfandel: Gold, Silver, Silver, Silver, Bronze
2014 Carter Estate Winery Penrose: Bronze
2015 Santa Lucia Highlands Pinot Noir: Gold, Gold, Gold, Silver, Silver, Silver, Bronze
2016 South Coast Winery Chardonnay Sans Chene: Silver, Silver, Silver, Bronze, Bronze, Bronze
2016 South Coast Winery Dry Gewürztraminer: Best of Category, Double Gold, Gold, Gold, Gold, Silver, Silver, Bronze
2016 South Coast Winery Merlot Rosé: Silver, Silver, Silver, Bronze
2016 South Coast Winery Muscat Canelli: Gold, Silver, Silver
2016 South Coast Winery Pinot Grigio: Gold, Gold, Silver
2016 South Coast Winery Riesling: Silver, Silver, Bronze
2016 South Coast Winery Sauvignon Blanc: Silver, Silver, Silver
2016 South Coast Winery Tempranillo Rosé: Best of Class, Platinum, Double Gold, Gold, Gold, Bronze
2016 South Coast Winery Verdelho: Platinum, Platinum, Double Gold, Gold, Gold, Gold, Silver
NV South Coast Winery Boulder Red 2.0: Gold, Bronze
NV South Coast Winery Brut Sparkling: Silver, Silver, Bronze
NV South Coast Winery Extra Dry Sparkling: Gold
NV South Coast Winery Romanza: Gold
NV South Coast Winery Pinot Grigio Sparkling: Best of Class, Double Gold, Gold, Gold, Silver
NV South Coast Winery Gewürztraminer Sparkling: Double Gold
NV South Coast Winery Ruby Cuvée: Silver
2015 South Coast Winery Sauvignon Blanc: Best of State/Best of Region/Best of Class-Double Gold, Silver, Bronze
2015 South Coast Winery Winemaker Signature Collection Sauvignon Blanc: Best Sauvignon Blanc-Double Gold
2015 South Coast Winery Cabernet Rosé: Best of Class/Region and Double Gold, Gold, Silver
2015 South Coast Winery Verdelho: Best of Class/Region/Gold, Bronze, Best of Class/Gold, Gold, Best of California Appellation/Best Verdelho, Double Gold, Gold
2015 South Coast Winery Tempranillo Rosé: Best Varietal Rosé- Best of Class/Region/Gold, Bronze, Gold, Gold
2015 South Coast Winery Merlot Rosé: Silver
2015 South Coast Winery Muscat Canelli: Best of Class/Region/Gold, Gold
2014 South Coast Winery Late Harvest Muscat of Alexandria: Gold, Best of Class/Gold
2014 South Coast Winery Mourvedre: Best of Class/Region/Silver, Silver, Best of Show/Best Pacific Rim Red/Best of Class/Gold, Silver
NV South Coast Winery Ruby Cuveé: Silver, Gold
NV South Coast Winery Sparkling Gewurztraminer: Best of Class/Gold, Silver
NV South Coast Winery Sparkling Pinot Grigio: Silver, Silver
2013 South Coast Winery Grenache: Best of Class/Region/Silver, Silver, Gold
2014 South Coast Winery Gewurztraminer: Silver, Gold
NV South Coast Winery Brut Sparkling: Silver, Bronze, Gold, Gold, Silver, Gold
NV South Coast Winery Spumante Diamante Sparkling (Muscato): Best of Class/Gold, Bronze
2012 South Coas Winery TNT (Touriga Nacional-Tempranillo): Bronze, Silver, Silver, Gold
2015 South Coast Winery Viognier: Best of Class/Gold, Silver, Silver, Silver, Bronze
2012 South Coast Winery Boulder Red: Bronze, Silver
NV South Coast Winery Romanza: Bronze
2012 South Coast Winery Big Red Sunshine: Bronze, Silver
NV South Coast Winery Extra Dry Sparkling: Silver, Silver
2013 South Coast Winery Wild Horse Peak Mountain Vineyard Zinfandel: Bronze, Silver
NV South Coast Winery Romanza: Best of Class/Gold, Silver
2015 South Coast Winery Wild Horse Peak Mountain Vineyard Touriga Nacional: Silver
2013 South Coast Winery Wild Horse Peak Mountain Vineyard Syrah: Bronze
2015 South Coast Winery Tempranillo Rose: Gold
2015 South Coast Winery Verdelho: Best of Class; Gold
2015 South Coast Winery Riesling: Silver
2015 South Coast Winery Rosé of Cabernet: Silver
2015 Wild Horse Peak Mountain Vineyard Touriga: Silver
2015 South Coast Winery TNT: Silver
2015 South Coast Winery Sauvignon Blanc: Bronze
2015 Wild Horse Peak Mountain Vineyard Cab Sauv: Best of Class/Gold, Gold, Bronze
2014 Muscat Canelli: Best of Class/Gold, Bronze, Best of Class/Best of Region White/Gold
2015 NV CEW Blanc de Blanc: Silver
2015 NV SCW Blanc de Blanc: Gold, Bronze
2015 Blanc de Blanc Sparkling: Silver
2012 Cabernet Sauvignon: Silver, Silver
2014 Sauvignon Blanc: Bronze, Silver, Silver, Gold
2014 Pinot Grigio: Gold
2015 NV Pinot Grigio Sparkling: Bronze, Silver, Silver
2014 Gewurztraminer: Bronze
2014 Gewurztraminer Late Harvest: Silver, Bronze, Bronze
2015 NV Gewurztraminer Sparkling: Bronze, Bronze, Silver
2012 WHP Meritage: Silver, Bronze, Bronze
2011 Touriga Nacional Tempranillo: Silver, Bronze, Silver, Silver
2014 Tempranillo Rose: Silver, Silver, Silver, Best of Class/Region/Silver, Gold NV CEW Blanc de Blanc: Silver
2012 CEW Merlot: Bronze, Gold
2012 CEW Cab Sauv: Best of Class/Double Gold, Gold
2013 CEW Viognier: Best of Class Gold.
CEW Daybreak: Gold
2012 12 CEW Syrah: Bronze
2014 Chardonnay Sans Chene: Silver
2014 Pinot Grigio: Silver, Silver
2012 Sangiovese: Silver, Silver, Best of Class/Region/Silver, Gold
NV Merlot Berenda Road: Silve, Silver
2012 CEW Merlot: Bronze, Gold
2012 WHP Merlot: Silver, Bronze
NV Petite Sirah Berenda Road: Bronze, Bronze
NV Syrah Berenda Road: Bronze, Bronze
2014 Muscat of Alexandria Late: Bronze
2014 Grenache Blanc: Silver, Bronze
Spumante Diamante: Silver
2013 WHP Zinfandel: Bronze, Bronze
2014 Riesling: Bronze, Silver
2012 WHP Zinfandel
NV Spumante Diamante: Gold, Bronze, Gold
2012 Big Red Sunshine: Silver
2012 WHP Petite Sirah: Bronze, Best of Class/Region/Silver
2012 CEW Cab Sauv: Best of Class/Region/Silver, Gold
2013 CEW Viognier: Best of Class/Gold
2011 WHP Syrah: Best of Class Region/Silver
2012 CEW Syrah: Bronze
CEW Daybreak: Gold
2012 Boulder Red: Gold
NV Pinot Grigio Sparkling: Bronze, Gold, Gold, Silver, Best of Class Gold, Double Gold, Silver
NV Sin Sparkling: Bronze, Bronze, Gold
2010 Anniversary Cuvee: Bronze, Silver, Bronze, Silver
NV Sparkling Gewurztraminer: Silver, Gold, Best of Class Chairmans Award
NV Extra Dry Sparkling: Silver
NV Sparkling Brut: Silver, Silver
2013 California Girl: Silver
2013 Muscat Canelli: Silver, Bronze, Bronze, Silver, Silver, Gold
2012 Reserve Chardonnay: Silver
2012 Chardonnay San Chene: Silver, Bronze, Silver, Silver, Silver
2013 Sauvignon Blanc: Silver, Bronze, Bronze, Bronze, Gold
2012 Late Harvest Roussane: Double Gold, Silver, Silver, Silver
2013 SC Dry Gewurztraminer: Best of Class/Gold, Silver, Bronze,Silver, Gold, Silver, Silver
2012 Viognier: Silver, Silver
2013 Viognier: Double Gold, Silver
2013 Tempranillo Rose: Silver, Gold, Silver
2012 SC Group Therapy: Silver, Silver, Bronze, Gold
2012 SC Merlot: Bronze, Silver, Silver, Bronze, Silver
2009 Mourvedre: Silver, Silver,Silver
2010 Petit Verdot: Gold, Bronze, Silver
2011 WHP Cab Sauv: Silver
2011 RH Syrah: Silver, Gold, Bronze, Silver
NV SC BlackJack Port: Bronze, Silver, Bronze, Bronze, Bronze
NV Touriga Nacional: Best of Class Gold Chairmans Award
2011 CEW Penrose: Silver, Silver, Gold
10 Petit Sirah: Silver
Ruby Cuvee: Silver, Gold, Silver
NV Gewurztraminer Sparkling: Gold, Double Gold, Bronze, Silver, Best of Class/Gold, Gold, Silver, Silver, Gold
NV Pinot Grigio Sparkling: Silver, Bronze, Bronze, Gold, Silver, Silver, Silver, Silver, Best of County/Double Golf, Silver
NV Spumante Diamante: Silver, Bronze, Silver
2008 Blanc de Blanc: Bronze, Silver, Double Gold, Silver, Gold, Bronze, Gold
NV Blanc de Noir: Silver
NV Sparkling Pinot Noir Rose: Silver
2012 California Girl White: Double Gold
2012 Grenache Blanc: Double Gold
2011 Riesling: Silver, Bronze, Silver, Silver
2012 Riesling: Gold, Gold, Gold
2012 Roussanne: Silver, Silver, Best of Class/Gold, Gold, Silver, Silvr, Gold
2012 Viognier: Best of County/Double Gold, Best of Class/Gold, Best of Class/Gold, Silver, Gold, Silver, Silver, Silver, Silver
2012 Dry Muscat Caneli: Silver, Silver, Silver, Silver, Silver
2012 Gewurztraminer: Gold, Silver, Double Gold
2011 Gewurztraminer: Bronze, Silver
2011 Sauv Blanc Musque Cl: Double Gold, Silver, Silver, Silver, Silver, Gold, Bronze, Bronze, Gold, Best of Class/best of Region/Silver
2011 Chardonnay Sans Chene: Silver, Bronze, Silver, Gold, Best of Class/Gold, Best of Class/Gold, Silver, Bronze, Silver, Silver, Bronze
2011 Reserve Chardonnay: Bronze, Silver, Bronze
2011 WHP Chardonnay: Best of Class/BEst Of Region/Gold
2010 Group Therapy: Silver
2011 GVR: Silver, Silver, Gold, best of Class/Gold, Silver, Gold, Best of County/Double Gold
2008 GSM: Silver, Double Gold, Silver
2011 Merlot: Silver, Silver
2012 Cabernet Rose: Silver, Best of Class/Gold, Sliver, Best of Class/Best of Region/Silver
2011 Merlot Rose: Bronze, Silver, Best of Class/Gold
2012 Moscato Secco: Silver, Silver
2011 Tempranillo Rose: Gold, Bronze, Silver, Gold, Silver
2012 Tempranillo Rose: Double Gold, Best of Class/Gold, Best of Class/Gold, Bronze, Bronze, Bronze, Best of Class/Best of Region/Silver
2012 Radical Rose: Bronze
NV Romanza: Bronze, Silver, Bronze, Silver
2008 WHP Cabernet Sauvignon: Gold, Best of Class/Gold, Best of Class Gold, Silver
2011 WHP Merlot: Broze, Silver
2009 WHP Petit Sirah: Silver
2009 WHP Tempranillo: Silver, Bronze, Bronze
2009 SC Tempranillo: Silver
2008 WHP Sangiovese: Best of Class/Best of Region/Silver
2009 WHP Syrah: Silver, Bronze
2009 CE Malbec: Silver,Silver, Silver Outstanding, Bronze, Bronze,Bronze
2010 CE Merlot: Bronze, Silver Outstanding, Bronze
2009 CE Penrose: Silver, Gold, Silver,Silver Outstanding, Silver
2012 Late Harvest Roussanne: Gold
NV Daybreak: Silver
NV Black Jack Port: Bronze, Silver, Gold, Silver, Gold, Bronze
2010 Saint's Valley White Zinfandel: Silver
2009 Saint's Valley Zinfandel: Bronze
Saint's Valley Petite Sirah: Bronze, Bronze, Bronze
2010 Saint's Valley Cabernet Sauvignon: Bronze, Bronze
2010 Saint's Valley Petite Sirah: Bronze, Bronze
2010 Saint's Valley Syrah: Bronze
Ruby Cuvée: Gold, Bronze
NV Brut:Gold, Silver
NV Extra Dry: Silver, Silver, Silver
NV Gewurztraminer Sparkling: Bronze, Bronze, Bronze
NV Pinot Grigio Sparkling: Gold, Silver, Silver, Best of Class/Gold
NV Spumante Diamante: Gold, Chairman Best of Class/Gold, Gold, Bronze, Silver, Best of Class/Silver
2008 Blanc de Blanc: Silver, Silver,Silver,Silver,Bronze,Bronze,Silver,Bronze
2011 Gewurztraminer: Gold, Silver,Sweepstakes Winner, Best of Class/Silver
2010 Sauvignon Blanc Musque Cl: Gold, Unanimous Gold
2011 Sauvignon Blanc Musque Clone: Silver, Silver, Best Varietal/Double Gold, Chairmans Best of Class, Silver, Best of Show/White-Gold
2010 Chardonnay San Chene: Silver, Bronze, Bronze
2009 WHP Chardonnay: Silver
2011 SC Muscat Canelli: Bronze, Silver, Best of Class/Silver
2009 Late Harvest Reisling: Silver, Bronze
2009 GVR: Bronze, Silver, Gold, Bronze
2010 GVR: Silver, Silver, Bronze, Gold
2008 GSM-Wholesale: Silver, Silver, Silver, Bronze, Silver, Gold
2010 Late Harvest Riesling: Silver, Silver, Gold, Best of Class/Silver
2011 Rose of Merlot: Bronze, Bronze
2010 Pinot Grigio: Bronze
2008 Group Therapy: Best Rhone Blend, Bronze, Gold, Bronze, Silver, Silver
NV Romanza: Silver, Silver, Gold, Bronze, Double Gold, Best of Class/Silver
NV Big Red Table: Silver, Silver, Silver, Gold
2006 Cabernet Sauvignon 4 Block Blend: Bronze, Silver, Bronze
2008 WHP Il Temporale: Bronze, Bronze, Silver
2008 WHP Meritage: Gold, Gold, Silver, Silver
2007 WHP Merlot: Gold, Gold, Silver, Silver
2009 WHP Petite Sirah: Silver, Bronze
2008 WHP Sangiovese: Silver, Best of Class/Silver
2008 WHP Syrah: Silver, Bronze, Silver, Gold, Silver, Double Gold, Silver, Gold
2008 South Coast Rolling Hills Syrah: Silver
2008 South Coast Rolling Hills Cabernet: Bronze
2009 Tempranillo: Silver, Bronze, Best of Class/Gold
2008 Wild Horse Peak Zinfandel: Bronze, Gold
2011 Tempranillo Rose: Gold, Silver, Gold, Broze, Gold, Silver, Best of Class/Best of Region/Gold, Silver
NV Black Jack Port: Silver, Silver, Silver, Best of Show-Fortif Wines, Bronze, Silver, Bronze, Best of Class/Gold, Bronze
2009 Carter Estate Penrose: Silver, Silver, Best of Class/BEst of Region/Gold, Bronze
2006 Carter Estate Cabernet Sauvignon: Gold
2009 Carter Estate Malbec: Bronze, Bronze
2010 Carter Estate Viognier: Bronze, Silver
2010 Saint's Valley Petite Sirah: Bronze, Silver, Silver