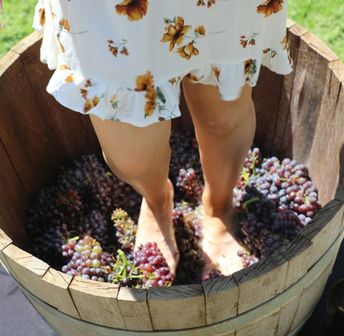 Grape Stomp - Sept 16
September 16

All Day

Vintner's Garden
Join us for our annual Grape Stomp on select Fridays, Saturdays & Sundays in our Vintner's Garden!
Grape Stomp Admission will include the following:
• 2 Wine Tasting Tickets
• Grape Stomping for Two
• Mix & Match Case of Wine
To reserve your session, select the date and time of your stomp below. At check-out, you will be charged a Non-Refundable Deposit of $50 Per Couple which will be applied towards your case purchase the day of. Cases start at $170* and must be purchased during your Grape Stomp Session.
*Pricing is dependent on what wines you choose for your case. Minimum case pricing is $170 exclusive of tax & gratuities. This event is only available to participants ages 21+.
Local Food Bites Available | Taps Tacos
Live Music | George Galvez | 3pm - 7pm